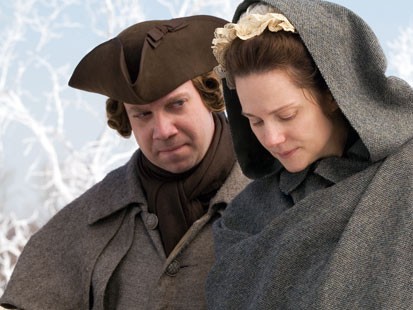 In the midst of one of the most cynical and repugnant Presidential campaigns in our nation's history—a campaign which features three candidates for whom expediency and pragmatism have taken the place of principle—HBO has chosen to air a seven part miniseries on John Adams, deemed by Objectivist Professor C. Bradley Thompson as America's greatest founding statesman.

Based on a Pulitzer-prize winning biography by historian David McCullough, the mini-series features Paul Giamatti as John Adams and Laura Linney as his wife Abigail. Tom Hanks served as executive producer. The story begins with the 1770 Boston Massacre, and covers key events in Adam's life, including his persuasion of Thomas Jefferson to draft the Declaration of Independence, his meeting with King Louis XVI of France at Versailles, his post-war encounter with George III, and his terms as America's first Vice-President and then President. One of the most fascinating aspects of the story is Adam's tumultuous relationships with Jefferson, Franklin and Hamilton. Everything about this television series is very nearly flawless: the brilliant lead performances, the authentic historical settings, the passionate dialogue and the inspirational musical score by Joseph Vitarelli.

The stark contrast between the integrity, dedication and heroism of this man who was largely responsible for the freedoms we enjoy today, and the ugly stench of power-lust and cynicism that characterizes the current political scene, dramatizes and underscores the moral and political bankruptcy rapidly destroying the last vestiges of America's noble heritage, and makes you wonder when and where this country lost its way. It also demonstrates the nature of the courage that will be required of our nation's future leaders if America is to survive.